CBD is a wonderful, wonderful thing! It can relieve your pain, help you go through long-term healing, and even help you concentrate and feel confident.
It's exploding in popularity as well, and everyone who's anyone seems to know all about it! I'm sure you do too, and there's one barrier we wish we could overcome – the taste. There's nothing worse than buying a bottle of CBD oil and having it taste strange – it makes you wonder if it's a bunk bottle.
To counter these problems I've compiled a list of the tastiest CBD options available on the market that have lab results and (preferably) tons of positive reviews. I wouldn't recommend anything if I suspected foul play of any kind. And off we go!  
---
5. GRN's Broad Spectrum CBD Strawberry Tincture
At the top of the list we have GRN's strawberry flavored CBD oil! It's also broad spectrum, which means it contains a little of every cannabinoid as opposed to isolate, which contains only CBD. Free shipping and 30 day returns included! 🙂
---
4.Lazarus Naturals Chocolate Mint CBD Oil
Well, well, well… It doesn't get much better than this! If you're into chocolate, that is 🙂
Lazarus Naturals has been good to us by providing a chocolate-mint flavored CBD oil, and it definitely deserves a mention on this list. Check them out!
---
3. Sunday Scaries' Gummy Bears
Yep, you heard it right – Sunday Scaries' CBD-infused gummy bears! No "tastiest CBD products" post would be complete without adding some CBD gummy bears, and why not buy from a company that provides lab tests for the batches they produce?
---
2. CBDfx Gummy Bears
CBD FX has been kind enough to produce a wide variety of gummy bears even going so far as to make them with turmeric and green tea. Those may be slightly healthier for us but they won't taste as good as their regular gummy bears, which have 400+ positive reviews and lab results 🙂
---
1. Just CBD Gummy Peach Rings
Remember those peach gummy rings you used to eat when you were a kid? Well, maybe they were apple flavored, but you know what I'm talking about!
I can imagine how it went down. "You know what?" "What, Bob?" "You know those peach gummies we used to eat when we were kids?" "Yeah, what about them?" "We're going to infuse CBD into these." And they did.
Surprised it made the top of the list? I didn't think so 😉 you can find them here.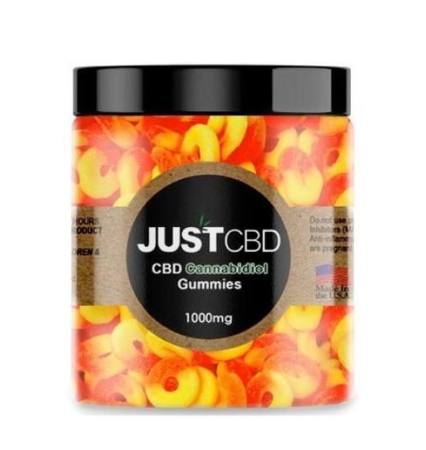 ---
Honourable Mentions
There are a few products that didn't make it into the list, but that should be mentioned anyway.
---
Saibedee's Unflavored CBD Oil
These guys are known for their quality and their vibiness, and their unflavored CBD oil is made for those who don't like the taste of regular CBD oil. It's fairly strong as well, clocking in at  1000mg, and it's broad-spectrum as well – you get the benefits from every cannabinoid instead of just CBD! 🙂
---
Naked 100's Really Berry CBD Vape Juice
Naked 100 is a company that I've recently come across, and it looks like they make some CBD-infused vape juice. The reason why it didn't make it into the list is because I don't see any positive reviews from DirectCBD's website. It does, of course, come with a COA, so perhaps you should be the one to write the first review!
---
Eclipse Peanut Butter CBD Isolate
Peanut butter? Interesting! I didn't know that this existed until I started doing research for this post, and I want to try it. Give it a look!
---
Conclusion
When you're choosing new CBD products to try it's good to try something that tastes good. Personally, I want to try the peach gummies. Really bad.
Also, don't be afraid to give me some feedback on my post. I'm experimenting with a new, shorter post structure and I want to know if you guys prefer this or something longer and a little more detailed.
What's the tastiest CBD product you've tried? Comment below! Do you have any questions or suggestions? Email me at gabriel@itsagreenworld.com! Have a wonderful day 🙂