I recently watched a video by a man named Neil Bradley while I was doing research for this post (linked here). Neil Bradley is a man who suffers from multiple sclerosis, which is an incurable(?) chronic disease that causes all kinds of issues, depending on what kind it is (more on that below).
The video starts with him walking across his home so that he can sit in his computer chair. The amount of pain he's in when he's walking is extremely excruciating and, to me, it's quite hard to watch. He sits in his chair and he explains that he's going to try CBD oil, again, to help him with the pain he's in, since it didn't help him the first time he tried it.
We don't have a follow-up video which specifically tells us the results, but we can tell from his videos proceeding it that he hasn't experienced much improvement. He had to turn to azathioprine (an autoimmune blocker) and be put on steroid treatment so that he can feel a little bit of relief from his pain.
After watching some more of his videos I noticed that he's a genuine man who's suffering from a disease that is inhibiting his freedom to live life as he ought to. This tore (well, still tears) at my heartstrings and I decided to put a lot of research into this to find out exactly what's going on here.
I'm going to cover what MS is, how it progresses through the different phases, and if CBD can really help or if more drastic measures need to be taken. If you're looking for professional advice then please consult a professional neurologist. I am not licensed or properly trained in this field, and this isn't intended to replace true medical advice.
---
What is MS?
MS is an autoimmune disorder in which the body attacks itself because it suspects that there is a problem where there probably isn't one. It causes problems with your brain and the rest of your body by damaging the neurons that are responsible for communication.
This is characterized by tingling in the body and lesions in the bottom of the spinal cord. It's a complicated answer and I don't wish to answer it improperly, so I'm going to place a diagram here so that you we can use it as a reference.
This is a diagram of a neuron inside of the central nervous system (CNS). The neurons are responsible for communicating both chemical and electrical information, and they need to communicate by transmitting "pulses" from one neuron to the next.
What happens during MS is that white blood cells are drawn to the myelin sheaths (does that sound familiar?). These are the catalysts for inflammation, and the myelin sheaths are stripped from the axon that lies underneath during the inflammatory response. We call this "demyelination."
Something else that happens is the "oligodendrocytes" are destroyed as well, and this is disastrous since their purpose is to create and maintain the myelin sheath, should it ever deteriorate.
Once the axon is exposed the neuron has trouble communicating with the rest of the body properly, which can result in partial or total loss of all kinds (and severities) of motor function, and the axon has the potential to degenerate completely (the degeneration of axons is known as Wallerian Degeneration).
When this begins happening, however, all is not lost. It is possible for the body to regain it's myelin sheaths and cover the axon again. It's possible for the inflammation to die back, and for the oligodendrocytes to rebuild the white matter. The axons' functionality can remain in tact for a very long time depending on the severity experienced thus far.
There are times when it doesn't progress into a full onset of the disease. Sometimes it does, but usually the beginnings of MS are the loss of proper axon function; that is to say, the axons can still function, but they won't function as well as they did before the disease. If MS is diagnosed in this part of development then treatment may be very effective.
Something interesting to note is that the lost myelin can be replaced with scar tissue, similarly to when you cut your hand. This is how multiple sclerosis was actually named; multiple (which means many) and sclerosis (which means scar forming).
If MS is impacting your sleep then I recommend reading this article. It gives you multiple tips and tricks to help you get the sleep you need!
---
The Different Kinds of Multiple Sclerosis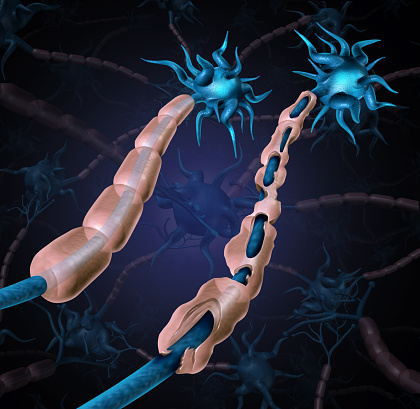 What I've mentioned above is something that happens over a long period of time. It's pretty rare to wake up and find your myelin has been stripped overnight.
There are some noticeable variations of MS that have been labeled as Relapsing MS (RRMS), Secondary Progressive MS (SPMS), Progressive Relapsing MS (PRMS), and Primary Progressive MS (PPMS). There are other variants that exist, such as Malignant MS (which actually strips your myelin in a very short period of time), but for now let's focus on the main variants of the disease so that we know what we're dealing with.
Relapsing/Remitting (RRMS): It's possible to relapse for the first time, start to become better, and then relapse into the same (or worse) position that you experienced before. I would compare it to taking 2 steps backwards, 2 steps forward, and then 2 steps backwards again. The time a relapse lasts, the time between relapses, and the time it takes to recover between each relapse varies greatly from person to person, and so I'm unable to give any kind of estimation in the slightest. This stage of MS is typical in people who are in their 20s and 30s, although there are exceptions to this rule.
Progressive relapsing MS (PRMS): This stage is essentially a worsening of the second stage; the recovery following each relapse in this stage is exponential but between relapses there can be a progressive worsening of the disease at a faster rate.
Primary progressive (PPMS): This variant is unique because it doesn't have any remissions at all; instead it's a disease that simply progresses and becomes worse over time. It also differs from the others in that it tends to appear later in people's lives (around the 30s or 40s), but since there don't tend to be relapses in PPMS it generally doesn't damage the brain as much as the others do.
Secondary Progressive (SPMS): It's very possible for RRMS to happen so often that it progresses into the next variant of MS which is called secondary progressive. This stage is characterized by a gradual worsening of the disease between relapses, and while it's possible for someone with SPMS to have good days the disease is/has become 2 steps forward and 3 steps backwards, and it usually takes around 10 years for SPMS to turn into progressive relapsing MS, which I'll explain below.
This disease is serious. It can onset, slowly become worse, and end up crippling people for life. The worst part is, there's no known cure for any variant of MS at the moment, and so the only option is to find healthy ways to co-exist with the disease. We're not sure about how it starts either! That's what bothers me the most – we're not entirely sure if it's caused by genetics, environmental factors or a messy combination of the two.
We think it results as an issue with the auto-immune system, that certain viruses can cause it, and that it comes about from diet and vitamin deficiency. We don't know for sure, so it's best to stay as healthy (and stress free!) as we can. 
So now that we have a broad understanding of the disease we can look at the ECS and how it benefits the body. This will help us determine whether or not CBD helps with multiple sclerosis. Let's find out!
---
A Brief Overview of CBD and the Endocannabinoid System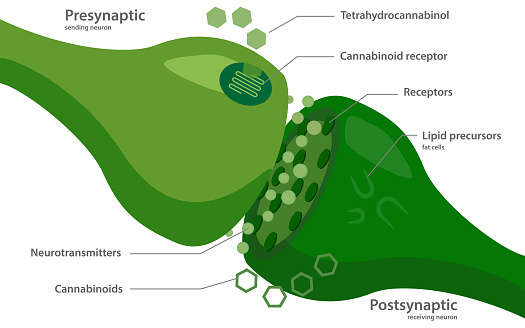 CBD (which is a phytocannabinoid) interacts with our body's cannabinoid receptors, mainly CB1 and CB2 (although you can find more info here :). These receptors are made to interact with both endocannabinoids and phytocannabinoids – endocannabinoids are produced by our bodies, and phytocannabinoids are cannabinoids that come from the hemp plant.
It's a system that's vital to our body's general well-being in a lot of different ways. It helps alleviate stress and anxiety by decreasing your cortisol (stress) levels. It fights inflammation by suppressing inflammatory pathways. It helps tone down the electrical activity in our brains. It helps regulate our moods and pain perception. It helps our bodies calm down and sleep better at night.
The list goes on and on. I recommend reading about it in depth here; these guys make it really easy to understand what it is and how it serves you!
---
Does a Supercharged ECS Help MS?
"But wait," you might be thinking, "CBD combats inflammation, that means it should cure multiple sclerosis since it starts from inflammation destroying the myelin, right?"
This is a plausible theory, except this study suggests that oligodendrocyte death actually precedes inflammation! This is a giant bummer, especially if it means MS is happening before inflammation ever enters the picture. It means that CBD can help with the inflammatory aspect of MS, but that (at least theoretically) it certainly won't be a cure in any stretch of the imagination. 
So, what happens when we put the two together? What happens when we take the disease called MS and add a supercharged ECS into the mix? To answer that question I'd like to show you some studies done in this particular area.
CBD can help with muscle spasms, with the inflammatory aspect of MS, with MS in general, and THC:CBD treatments have even lead to improving upper body function! In fact, the evidence is so overwhelmingly positive that I almost can't believe my eyes. I mean, CBD straight up improving body function?! That's insane! But it's real, even if some of the patients in the studies use THC along with CBD to aid in the healing process.
---
What Else Can Help?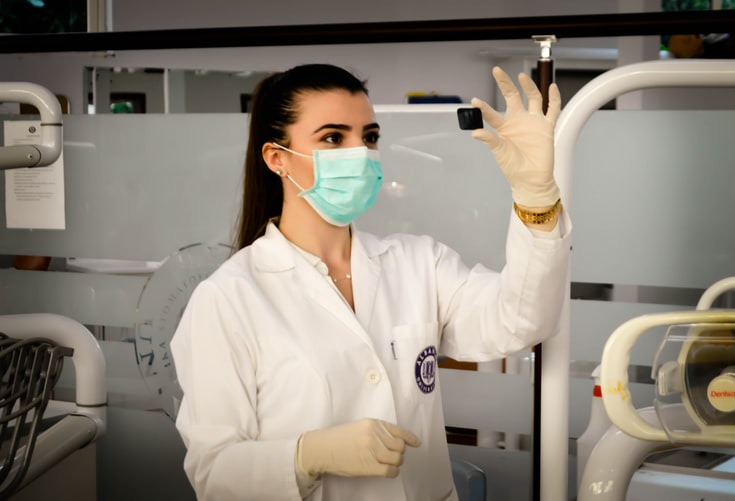 Azathioprine is an immunosuppressive antimetabolite, which means that it suppresses the immune system and it controls transplant rejection reactions. Some people feel better after taking this drug, and some do not.
It's also becoming gradually unpopular as a treatment since the side effects can be quite nasty, and a lot of commonly used treatments include some possible side effects like high blood pressure, blurred vision, increased risk of cancer, kidney disease, hair loss, infections, and more. This is why I hesitate to recommend them, but I have left the link above if you wish to research them a bit further.
It can help to cut all saturated fats, trans fats, refined carbs, and sugar out of your diet since these kinds of foods aren't very helpful in maintaining a healthy body. Replacing these foods with a natural, organic diet is going to give your body the kinds of nutrients it needs to be as healthy as it can.
Making sure you have enough Vitamin D also may help since areas of the world with sunlight deficiency may have something to do with contracting the disease in the first place (source).
Knowing and staying away from your food allergies will help you, your body doesn't need to be fighting two things at once! Massaging may help since it can stimulate circulation, and exercising if/when you can is going to prevent your muscles from deteriorating. 
And please, if you can – remain optimistic and laugh now and again. Being optimistic is very beneficial to your body's well-being, and facing this disease with laughter will also inspire others to be as strong as you are.
---
Conclusion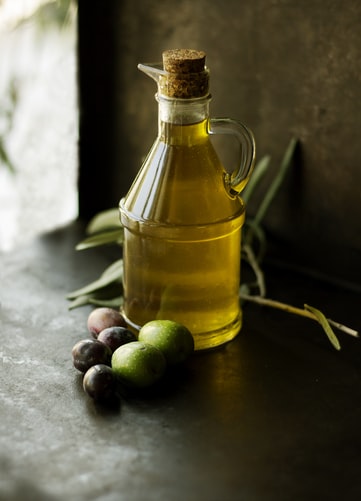 I really, really hope this post helped you! We went over the disease, the ECS, and if CBD can help MS or not. We also went over some other ways to help treat MS in the hopes of healing it completely or finding a not-so-painful way of coexisting with it. The answer is yes, CBD can help some, but you may want to consult various professionals in their fields if they've tried CBD oil and it hasn't helped them thus far. 
You can click here for a 4000mg bottle of CBD oil. It'll be your best option if you're looking for relief with MS. I've also created a sign-up forum below that gives you some more information about the bottle and the company that offers it, so sign up for that if you're interested.
I'm very curious to see what you have to say below. What's helped your journey with MS? What hasn't? Are you looking to try a new treatment soon? If so, what is it and why? As always, you can email me at gabriel@itsagreenworld.com if you'd like to, and I wish you an amazing day. See you in the next post!