At A Glance:
---
Price: $39.99
COA Verifiable: Yes! You can find their COAs here.
Shipping Speed: Average, 5 days with the normal shipping option 
Presentation: 9/10
Smell: 10/10
Onset: 10-15 minutes
Effects: Felt a burning sensation on the back of neck. It slowly faded away, and it took my original neck pain with it. Healed my back pain with no problems!
Where To Find: Here
Welcome to my CBDMedic review! I've been excited to write this post for a while since they're one of the first companies I ever partnered with. Their products are unique, their positive reviews are through the roof, and they have COAs to prove that they are who they say they are! Plus,their logo looks awesome. Let's get right into it!  
What Is CBDMedic?
CBD Medic is a company that sells CBD-infused products, but they're different in the sense that they specialize in creating topical skincare that contains more than just CBD. Their products are made with 15 years of research in mind, and they contain ingredients such as menthol, camphor, colloidal oatmeal, salicylic acid, allantoin, and lidocaine.
They're also free of any artificial dyes, synthetic fragrances, steroids, parabens, petrolatum, and phthalates. That's why I think they're so awesome – they branch out from CBD and add other essential ingredients into their products while staying closer to nature than most CBD companies I've come across, even going out of their way to completely remove THC from everything they sell. They even have a full list of their ingredients in an interactive infographic, and it shows you where each ingredient comes from and what it does for you :).
Since I tried their neck and back relief lotion it came with organic beeswax, clove oil, cotton seed oil, eucalyptus oil, hemp extract, jojoba seed oil, peppermint oil, sorbic acid, and tea tree oil. Very powerful stuff!
How Did It Go?
The first thing I noticed when I opened the package was how presentable their box was. It was clean and organized, and that's something I like seeing from a company that sells CBD products. They're upfront about it's 0% THC content, and about it's 10% camphor and 15% menthol content, which are two ingredients that can be potentially controversial.
They have a list of ingredients (active and inactive) on the side for all to see, a contact number, the correct warnings (don't swallow, keep out of the reach of children, etc), directions, a full list of ingredients inside of the particular bottle, and a short "Here's what we do" message on the back. I was very impressed at their thoroughness, that's for sure!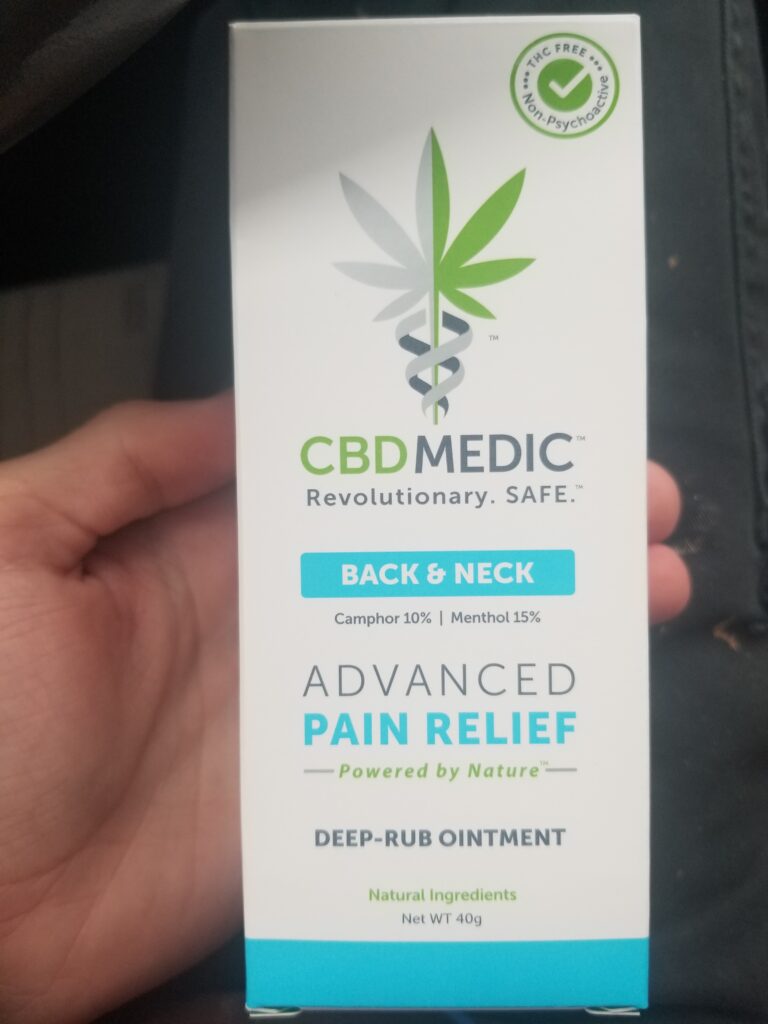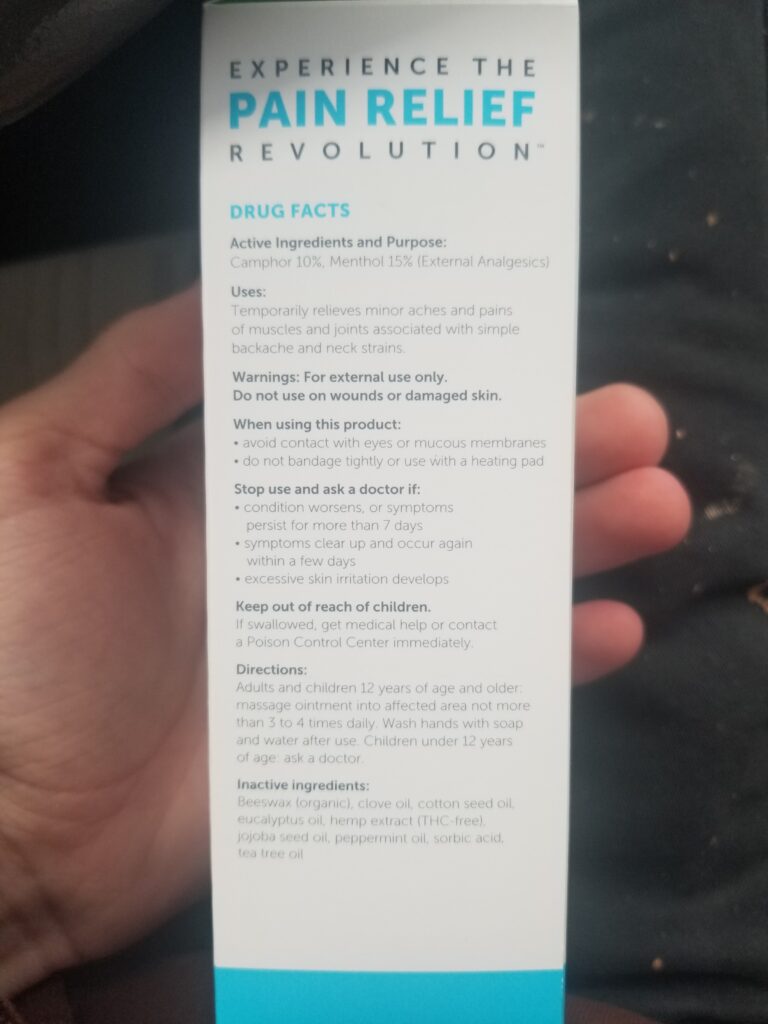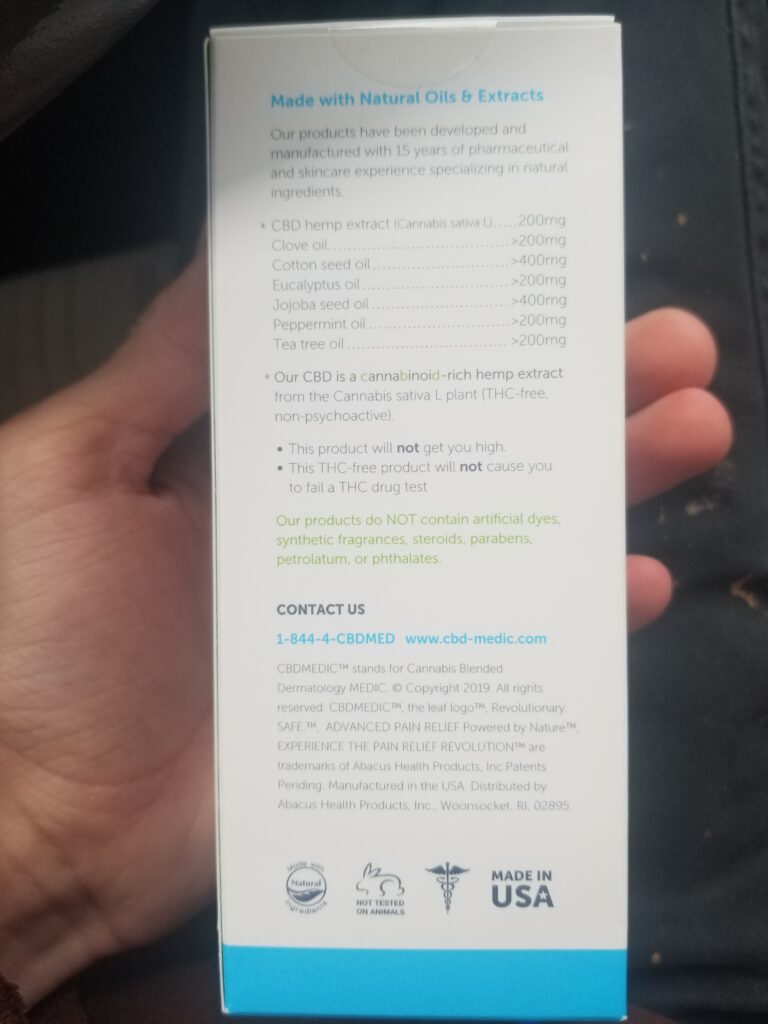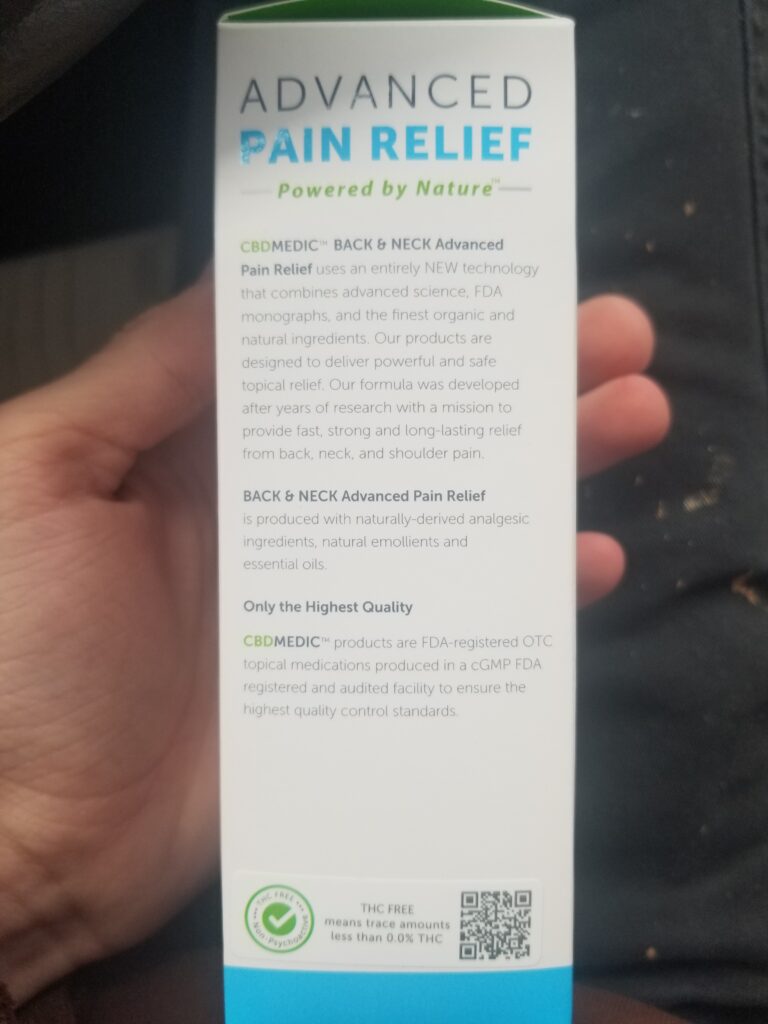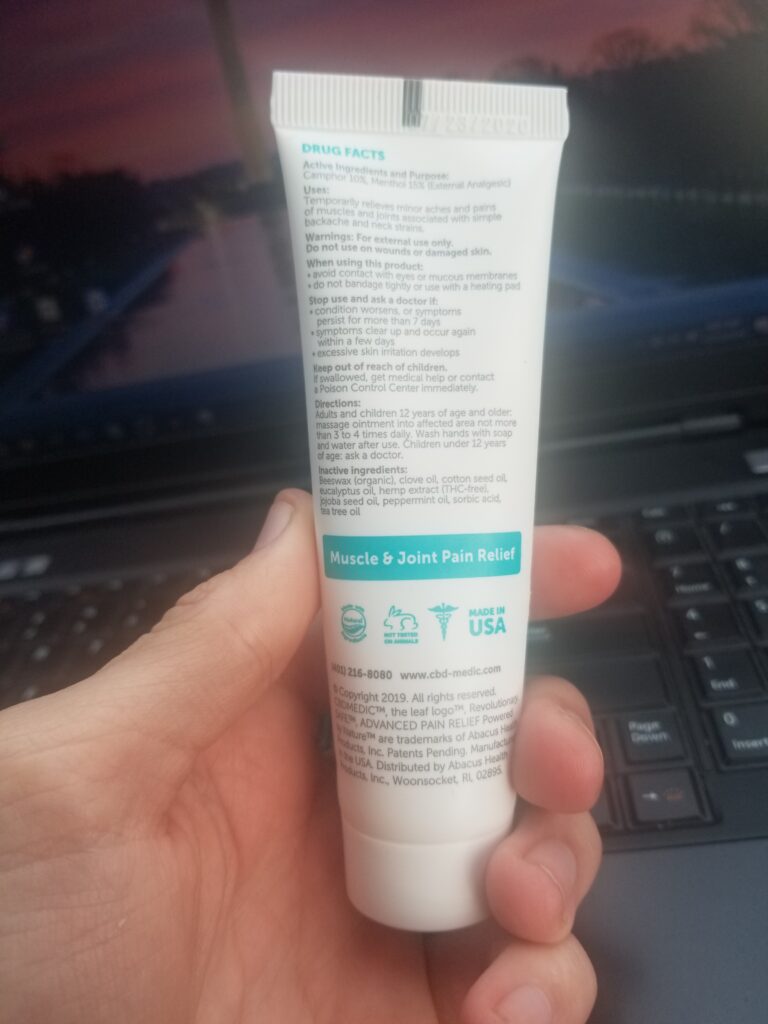 So, I opened the box and took the bottle out. I opened the bottle, and oh you guys, it smells absolutely fantastic. It was mostly peppermint with everything else mixed in as well. It should honestly count as aromatherapy as well as a pain relief cream, I'm going to use it in both ways until it's gone 🙂
I put some cream on the back of my neck, and like my last review I recorded the effects in real time. Since then (yesterday as of writing this post) I've put some on my lower back as well, although the results weren't as flamboyant. Here's what happened:
9:48am: Some pain in my neck and my head. The peppermint smells absolutely amazing. It feels smooth on my skin, which is surprising given it's grainy appearance. I like how it's not just CBD but a ton of other things as well. Applied to the back of my neck.
9:55am: There's a slight burning sensation in my neck. Something definitely doesn't feel right, I doubt it's supposed to burn like this.
10:04am: It's gotten worse, so I've decided to apply it to the front of my neck to see if any rashes are forming. 
10:21am: The pain has reached its peak 10 minutes ago, however there is no burning and only a slight rash on the front of my neck, which I usually have anyway.
10:40am: The burning has begun to subside.
11:08am: The burning is gone, and it's taken the original neck pain with it.
I tried it on my lower back the next morning, and this is what happened:
9:02am: I have a slight pain in my lower back, so I applied the cream in the painful areas.
9:18am: Back pain is completely gone with no burning sensation whatsoever. 
So, what happened exactly? The back of my neck was burning for about an hour before it took my pain away, and I wanted to find out why. I took a video of the back of my neck, played it back, and lo and behold, I had some cuts on the back of my neck that I knew nothing about when I applied the cream.
This explains why it only hurt in the back of my neck and not anywhere else – always check yourself before you apply it to make sure this won't happen to you! (It wasn't that bad to be honest, but I do want you to learn from my mistakes 🙂
Even with the burning sensation I still felt relief from my original neck pain after an hour or so. A bonus is that I could still smell it the next morning when I woke up. 
---
Finalization and Recommendation
One of the first things I noticed was the shipping time. 5 days is about the average amount of time it takes to ship something with the normal shipping option, so it's not a huge deal, but I would have liked to see it shipped a couple of days faster.
I do appreciate them showing their COAs to anyone who wants to see them. This really helps them establish legitimacy and it's one of the key factors I look for when I'm searching for a new CBD product to buy.
Other than that, everything went great! It works like it's supposed to, and I was surprised when I found that the effects lasted for the entire day! I definitely recommend CBDMedic's Back and Neck ointment, and you can find it here.
---
Conclusion
There really isn't any other company like CBDMedic out there. They're the first of their kind in that they utilize CBD in their products as opposed to featuring CBD as their only ingredient. Plus, it's priced fairly. That's always something good 🙂
Have you tried CBDMedic? Do you have an experience to share? Let me know in the comments! You can also email me at gabriel@itsagreenworld.com if you'd like to message me about private matters. Have a wonderful day!