A Quick Glance
Price: $54.99
COA Verifiable: Yes! You can find their COAs here.
Shipping Speed: Fast, 2-3 days with the normal shipping package.
Presentation: 8/10
Taste: 9/10
Onset: 20-30 minutes
Effects: Felt very relaxed, complacent, in a calm state of mind, able to concentrate, head pain and neck pain gone.
Where To Find: Here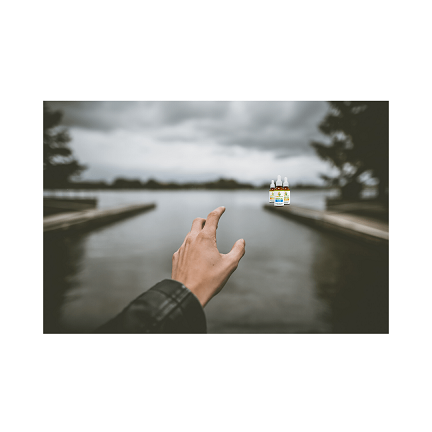 ---
About CBDPure
CBDPure is a Colorado-based manufacturer and distributor of CBD oil, softgels, cremes, and pet products. They use the CO2 supercritical extraction method when making their products to insure that they retain the full spectrum of benefits that can be absorbed from the hemp plant. They only use high-potency cannabidiol with a base of unprocessed natural hemp oil in their products, and they also provide a 90-day money-back guarantee if you're not 100% satisfied with what they provide.
---
My Experience With CBDPure
When I came across this company I thought it was too good to be true. A company that offers fairly priced, legitimate CBD products that are backed by 3rd party testing with a 90-day money-back guarantee? No way! Usually you have to sacrifice one or the other – price or quality. But these guys offer both, so I had to try them out.
I ordered the 300ml bottle since I don't have any severe ailments or anything of the kind. It arrived in a small box, and the box that held the oil itself was very presentable, and it had instructions on the back. Very cool!
When I opened the box (yes, in the car. I couldn't wait!) I saw that the liquid was a dark gold. This is a good sign since full-spectrum CBD oil is supposed to be a light-ish to dark-ish gold. The instructions on the side of the box said to take 1ml, which was the equivalent of half a tincture. I proceeded to fill my tincture halfway, and I placed the oil under my tongue for a solid minute.
I began feeling the effects around 15 minutes in, but being the bold adventurer I am I decided to take another half tincture since I knew I was going to want a bit more. I recorded what happened in real time, and here are the timestamps right after I took the second tincture:
10:45am: Feeling a slight throbbing in head, and also feeling some neck pain. Otherwise I feel normal and ready for what's to come.
11:00am: I feel like the throbbing has reduced some, and my neck pain is almost completely gone. I'm beginning to enter into a complacent state of mind, and I'm feeling more relaxed than I was before.
11:35am: Started playing a stressful video game. Usually this video game requires a lot of effort to play properly, but I don't feel any stress at the moment, even though I'm exerting the same amount of mental energy that I normally do. I'm able to think of new solutions to old problems that are present inside said video game, and I'm able to have more fun than usual, even though I'm dying a lot.
12:00pm: I can definitely feel the effects now. Relaxed, able to concentrate, no stress whatsoever, little to no worry, led to calming music instead of energetic music.
At the time of writing this paragraph it's 1:42pm, almost two hours after the last timestamp. Not much has changed since 12:00pm, and I'm able to appreciate my music more than I was able to before. Coming back to this paragraph at 2:45pm the effects are starting to wear off a little bit, but not fully. I suspect they'll fully wear off by 4:30pm judging by how slowly it's declining at the moment (which they did!).
How awesome! I'm happy to report that CBDPure's products are top tier, and their quality cannot be overstated. Let's take a closer look at the details 🙂
---
Pricing
CBDPure sells their oils in three potencies, 100ml, 300ml, and 600ml, which are priced at $29.99, $54.99, and $79.99 respectively. Their softgels contain 25mg (wow) of CBD per capsule, and they can be bought in "monthly supply" (1 month is $99.99, 3 months is $249.99, and 6 months is $419.99). Buying a six month's supply will only have you spend $69.99 per bottle instead of the usual $99.99, which I think is interesting.
They also sell muscle & joint formula "by the tube" (1 tube is $39.99, 3 tubes is $99.99, and 6 tubes is $169.99). Last but not least, they sell CBD oil for pets as well (they suggest that you use 1ml per 10 pounds of your pet's weight to their food either once or twice a day).
---
COA Verifiable?
Absolutely! For those who don't know, some companies provide test results from 3rd party labs to insure the quality of their product. I've written more about it here, and you can also see the lab results for the 300ml bottles here.
---
Shipping Speed
These guys ship fast! I received my order within 2 to three days of placing it (I don't remember whether is was 2 or 3 exactly). Usually I have to select better-than-normal shipping packages to get something shipped that quickly, but I selected the standard shipping package and they still delivered very speedily. I liked how they kept their packaging as small as possible as to make it more convenient for everyone involved.
---
Presentation
I enjoy the presentation of the box and the bottle itself. It's sleek yet the perfect blend of colors at the same time. Very good looking :).
---
Taste
It tasted like hemp oil is supposed to taste, which is to say earthy and… Well, like hemp! If I were to compare it to something I'd say it tasted like flaxseed oil and CBD oil. Two different tastes that blend very well together.
---
Onset
I started feeling the effects 15 minutes in, and it's probably going to be different for you since you have a different metabolism than I do. It can also be affected by other medications you might be taking at the time, of which I'm taking none at the moment. It took around 1 hour and 15 minutes to feel the full effects, and the full effects stayed active (that is, I felt like they stayed active) for 4 hours afterwards.
Needless to say, that's pretty fast! If you aren't counting the minutes (like I was) you probably won't even notice it until the effects fully kick in, and then you can prepare for roughly 4 hours of complete relaxation. How cool is that?
---
Effects
I felt very relaxed, more relaxed than I've felt in a long time. I felt like a weight had been lifted off of my head a little and that I was able to concentrate on whatever I wanted to. The throbbing in my head and neck was completely absent, and my heart rate slowed some as well. It's hard to explain, even though I'm still feeling the effects, but I somehow feel much healthier, energetic, and ready to do things. Neat stuff!
---
Where To Find
All of CBDPure's options can be viewed on their website! You can also sign up for their monthly newsletter when you land, and that will net you a 10% discount off of your next order 🙂
---
Conclusion
I'm extremely pleased with the quality of CBDPure's products, and I'll definitely be buying from them again. I wish they had a little more variety in their selection, but what they lack in variety they make up in quality, so I can accept it. Definitely 10/10 🙂
Feel free to leave a comment below! I'm always interested to see what you have to say, and don't forget to email me at gabriel@itsagreenworld.com for any questions you might have. Have a wonderful rest of your day!